Founded in 2007, Deadgoodundies.com is a men's underwear and swimwear website dedicated to the best designer brands from around the world. Launched by website and undies expert Adam Davies and fashion journalist Jane Garner, DGU has gained a reputation not just for always having a top notch selection of mens underwear styles – but also swift deliveries, excellent customer service and a willingness to make sure customers get the briefs, boxer briefs, slips, strings, thongs or trunks they want (even if that's from another website or shop).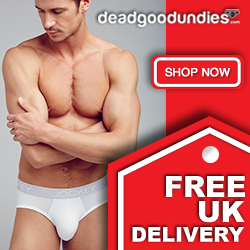 Adam is the technical expert, having designed several etailing websites before the launch of Deadgoodundies. And what he doesn't know about thongs, strings, micros, minis, maxis, shorts, boxers, long johns and men's swimwear isn't really worth worrying about.
Jane has been involved with the fashion industry for more than 15 years, her roles including writing for trade and consumer magazines about the latest news and developments in men's and women's underwear.
The current line up of brands includes innovative designs from Ergowear, Obviously For Men and Equmen, hot South American styles from Clever Moda, Gia, Gigo, Mundo Unico and Pikante, avant garde offerings from the likes of Bum Chums, Doreanse, Gregg Homme, Joe Snyder, L'Homme Invisible, MANstore and Olaf Benz, stylish staples from Camel Active, Jockey and JBS, and of course loads from original favourites HOM, Bruno Banani and Sloggi.
DGU has sourced the best fashion, luxury and everyday designs from these brands from across Europe, the UK, South America, Canada, and Australia. In some cases DGU is the only UK outlet or the only UK website carrying the brand or certain styles and colours from these top collections. For many collections, DGU offers the most comprehensive choice anywhere!
DGU's eyes are peeled for more interesting brands to be introduced to the selection – so if you own or know a brand that would fit into the DGU portfolio please let us know via the contact us page.